Post by Pinwheel on Sept 16, 2006 14:13:55 GMT -5
Ive been really bored lately and did these: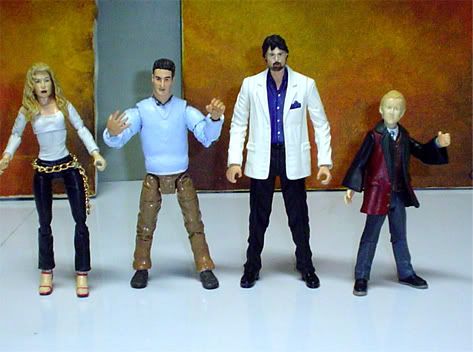 MY VERY OWN FRANKENSTEINS! Woohoo
I made these figures by mixing, matching, cutting and destroying several action figure parts(plus my fingers).
First figure I made was the guy in the crisp white suit.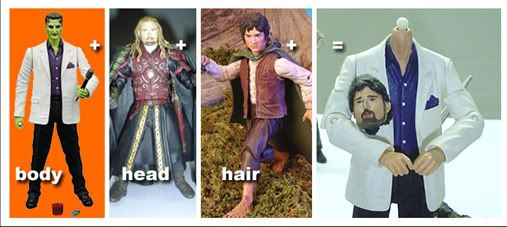 It's a very simple custom, actually. I got Lorne's body, repainted it, took off his head, replaced it with Eomer's with Frodo's hair. Easy right?
Not really.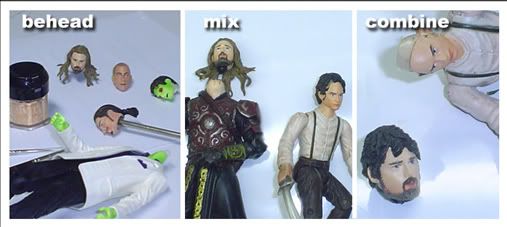 Choosing a perfect head for the suit body wasnt easy. Being the huge toy geek that I am, I actually went to what I'd like to call "screenings" or "auditions" for the perfect head. Ahahahah LAAAAAAME! But yes, I did that with several figures until I settled on Eomer from Lord of the Rings. Only problem was his long hair. I pulled(WHICH WAS HARD!) out his hair and replaced it with Frodo's curly short hair for a better look.
And now he can be anything I want him to be...
A rich tycoon..
A
Movie Producer
PORNOGRAPHER...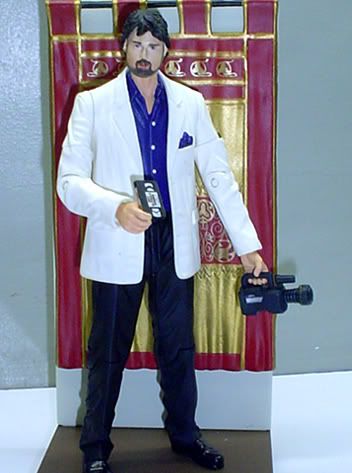 Or a Pimp!
Next Custom is the most intricate one. The guy in the blue sweater.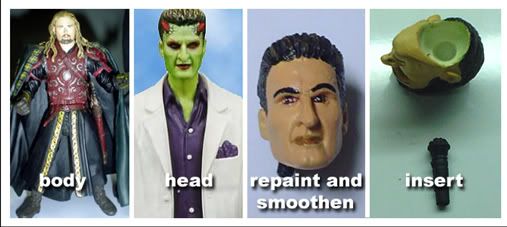 Since I took Eomer's head and Lorne's body, it would only make sense to use their scrappy remaining parts. Lorne's head was green and had horns so I scraped the horns off, smoothened his head bumps and repainted his face in a regular non alien color. I inserted a toy microphone under his head to give him support when I put him on top of Eomer's body.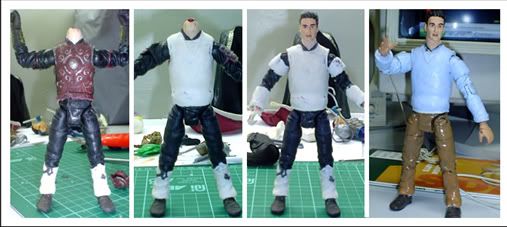 Eomer's body was sculpted with armor so I scraped it off with a nail file and sculpted a sweater over it with Sculpey. I also sculpted his pant legs since it was originally sculpted with boots. I then boiled the entire figure and painted it after. Im not happy with how I painted his top body though. I'll fix him when I get the right paints.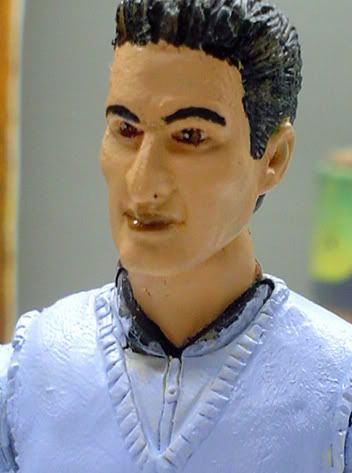 And like the guy in the white suit, he can be anything I want him to be!
A nerd..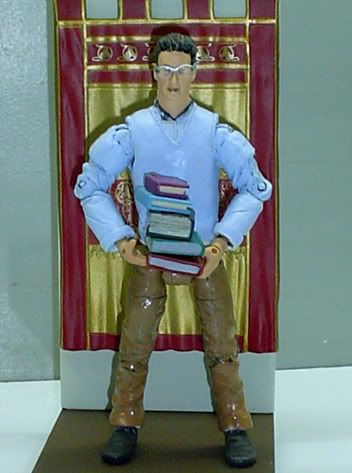 A disabled guy..
A rockstar..
The next chainsaw massacre victim..
Or the next Vin Diesel.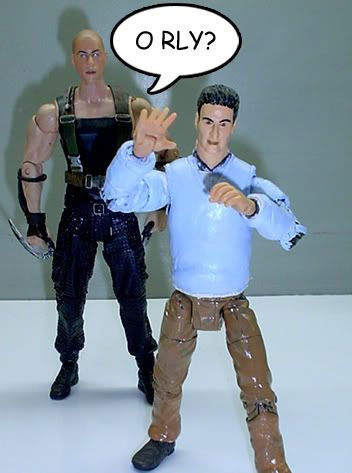 My first customs ever and Im pretty darn happy with them.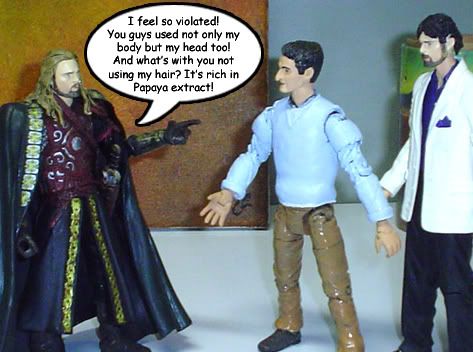 Next custom is the female figure.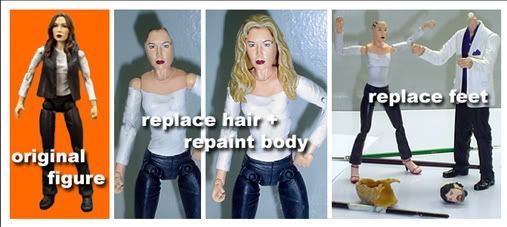 I found a store selling second hand Faith figures so I got a few and decided to customize them. I took out her hair and replaced it with a WWE Figure's hair. I repainted her face and body and gave her new feet.
Now, she too can be whatever I want..
A tabloid regular..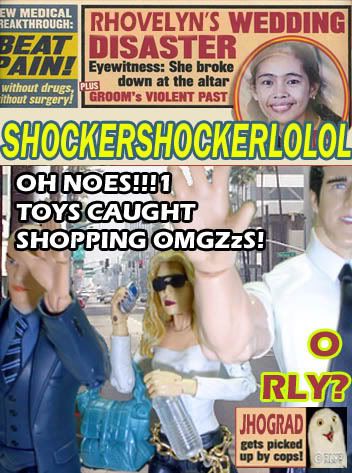 Mary Jane's number one enemy..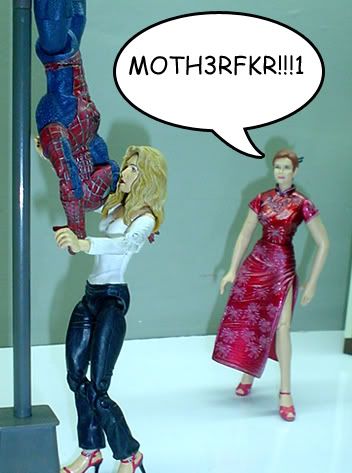 An irresponsible driver(oh noes!!!1111)
Another shot of it cause its such a cool car. Ahaha a hot girl driving the Xmen car! lololol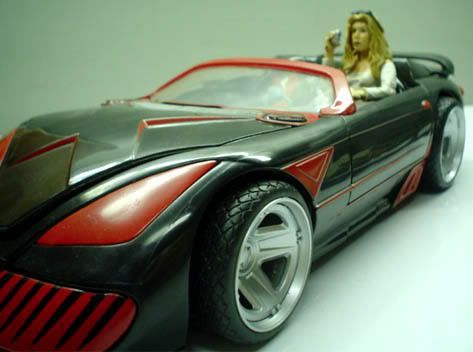 She can also be a back up dancer for a douchebag rapper..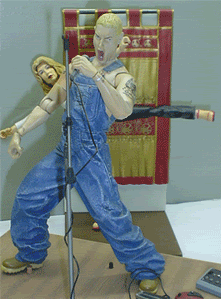 And she can also be paired with the guy in the white suit to create the perfect high power couple: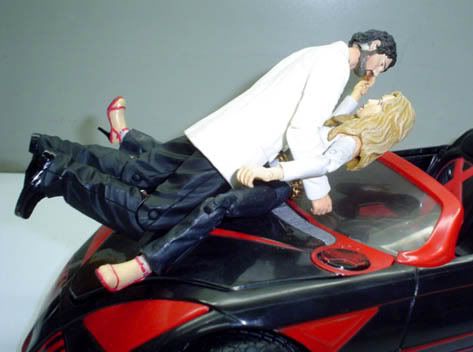 Erm, actually, not that, but this:
See? ;D
I also did a custom of a kid.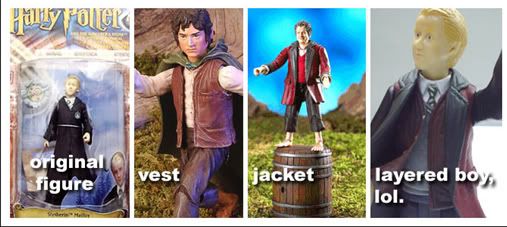 I dont have any figures of normal young children so I got the blonde kid from Harry Potter, took off his witchy magic robe and replaced it with Bilbo's jacket over Frodo's vest.
Now he thinks he lives in the North Pole with all his layers! Haha
This is him: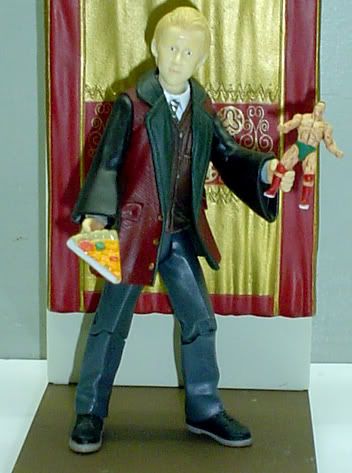 But this is what he really wants to be:
A "BAD" boy.
Hanging out with punk emo skater boys sure makes you look tougher.
Uh, right.
And that was it. ;D Im worknig on another one right now and I have no idea how to finish it, but here it is: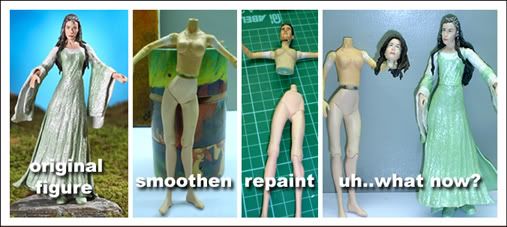 It's a Coronation Arwen body. I threw the skirt, sanded down her entire body, filled her arm gaps with sculpey, replaced the long elf hair with the hair from the Faith figure(IM SO SCRAPPY AHAHA) and there. I have no idea what to with her now.